Need to keep track of the changes occurring across Canadian health, safety and environmental legislation?
Compiled by legislative specialists using credible sources, the Canadian enviroOSH Legislation Service's Monthly Report is published during the first week of each month and includes the following for each jurisdiction:
Legislation in progress/proposed:

For Acts: updates on the status of current federal, provincial and territorial bills.
For Regulations: new regulations or proposed amendments to current regulations.

Amendments to legislation - Summarizes recent amendments that have been incorporated that month, with links so you can easily review the changes.
Repealed legislation - Lists documents that have been repealed and removed from the Service.
New documents - Highlights new legislation that has been added to the Service.
Standards information - Includes new, amended, reaffirmed, and withdrawn CSA Group standards and Canadian General Standards Board standards that are referenced in the Service.
Access to the Legislation Monthly Report is included with your subscription to the Canadian enviroOSH Legislation Service.
Not a subscriber?
Learn more about the
Canadian enviroOSH Legislation Service
Need more information on any of our products or services? Contact us.
Current Subscribers
VIEW MONTHLY REPORT
Missed a Report?
An archive of past reports is available through a link in the current report.
---
Monthly Report Sample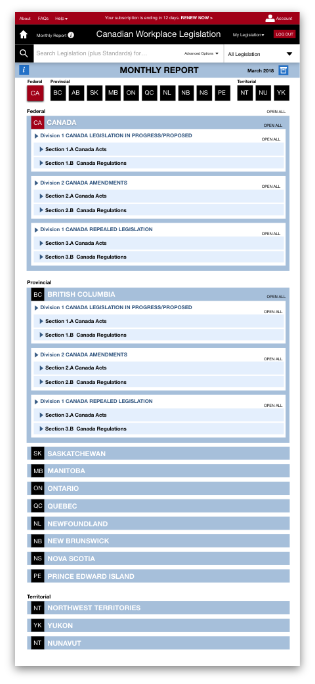 Note: This Report is currently only available in English