Occupational Hygiene - Ototoxic Chemicals
---
What is the auditory system and what is its function?
Back to top
The auditory system is responsible for our sense of hearing. It includes the outer, middle, and inner ears, as well as the central auditory nervous system. The auditory system is able to change a wide range of mechanical signals into a complex series of electrical signals. The brain then interprets these signals into a sound that we recognize and understand.
---
The auditory system consists of many different parts and sections. See the figure below for an image of the auditory system. Successful hearing requires all of these parts and sections to function properly.
Outer ear: The pinna sits on the side of your ear and collects the sounds in the environment. The ear canal funnels the sounds to your eardrum.
Middle ear: The sound from the ear canal hits and vibrates the eardrum – a membrane that divides the outer ear from the middle ear. The eardrum is connected to a series of three tiny bones. These bones are the malleus ("hammer"), incus ("anvil"), and stapes ("stirrup"). As the eardrum moves, so do the tiny bones.
Inner ear: The third bone in the series of tiny bones in the middle ear is connected to another thin membrane that divides the middle ear from the inner ear. The inner ear consists of a spiral-shaped structure known as the cochlea ("snail shell"). Within the cochlea, there are thousands of tiny cells, known as hair cells. These hair cells are stimulated and send messages to the auditory nerve.
Auditory nervous system: The auditory nerve runs from the cochlea to a station in the brainstem. From that station, neural impulses travel to the temporal lobe of the brain where the impulses are interpreted.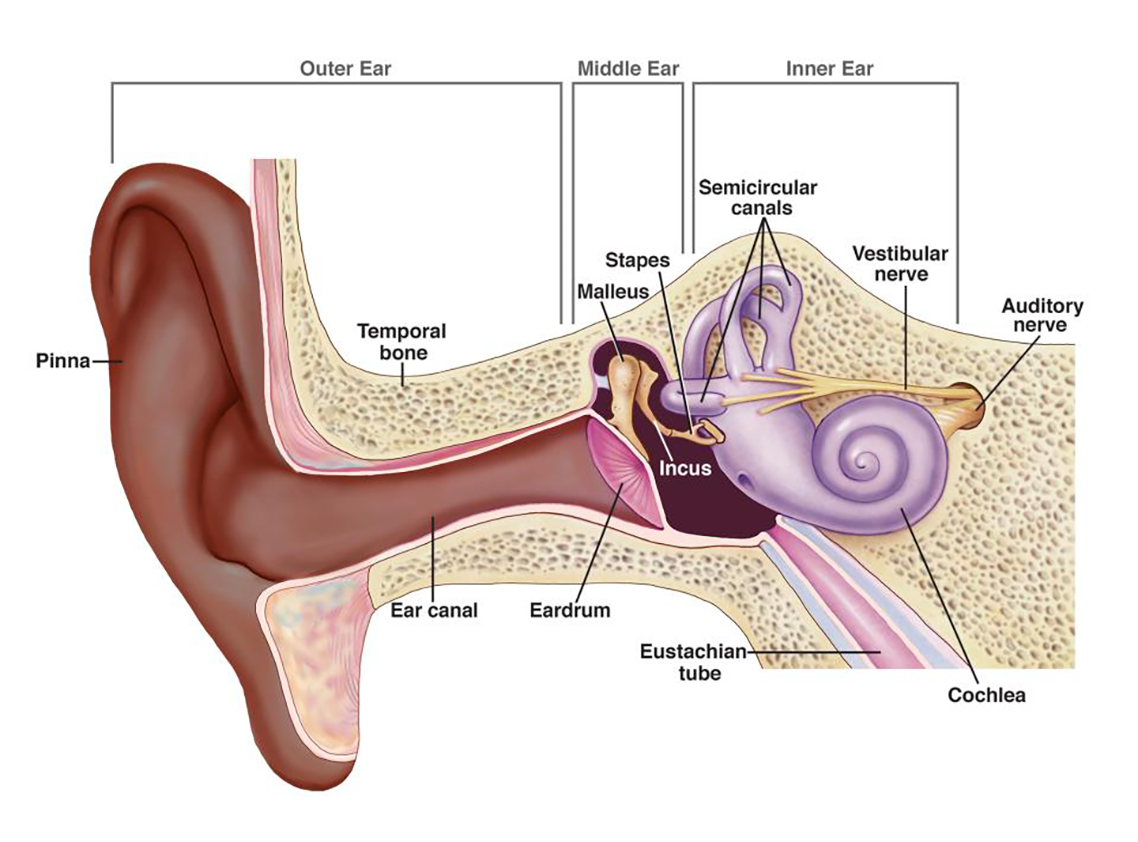 Image from: National Institute on Deafness and Other Communication Disorders, USA (2022) How do we hear?
---
---
---
---
---
---
---
---
---
---
---
Fact sheet first published: 2023-02-06
Fact sheet last revised: 2023-02-06