Vehicle Survival Kit Fast Facts Card
Be prepared for an emergency on the road - keep your vehicle stocked with these essentials.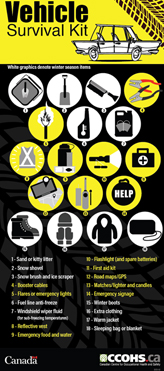 10.2 cm by 22.9 cm
4 in by 9 in
Description
For people that drive a vehicle for work, being prepared for the unexpected is essential. This means keeping a well-stocked driving kit in your vehicle to handle a potential emergency.
Distribute these cards outlining the necessary items to keep in the vehicle, either year-round or specifically for the winter season, to workers and work locations where driving is a part of the job.
These compact cards are printed double-sided, with English on one side and French on the other, on sturdy card stock with a UV coating for added durability. Note that a minimum order of 10 cards is required.
---