Scent-Free Zone
Scent-free workplaces can be a breath of fresh air.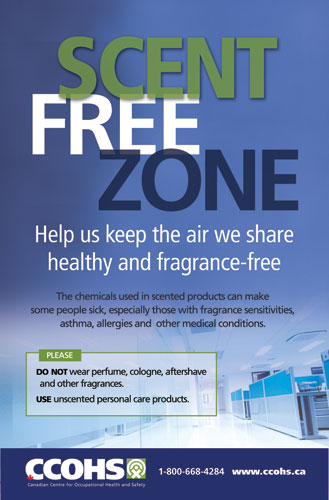 Format:

PDF
Language:

English / French
Description
The chemicals used in scented products can make some people sick, especially those with fragrance sensitivities, asthma, allergies and other medical conditions. To help keep the air healthy for everyone, some workplaces are introducing a scent-free policy.
For organizations making the change to scent-free workplaces, this Scent-Free Zone poster is intended to be a clear directive for posting in work areas or buildings designated as "fragrance-free". It advises workers and visitors to not wear perfume, cologne, aftershave and other fragrances, and to use unscented personal care products.
This poster is offered as a free download for individual copy use only. Reproduction is not permitted.
---