Landscaping - Vehicle Start-up - the Circle Check
---
A circle check is a visual and audible inspection of a vehicle or mobile equipment. The circle check allows operators to look and listen for any areas of concern. If a concern is noted, do not use that vehicle or equipment until the issue has been addressed.
A circle check should be completed at the start of the shift or before a new operator takes control of the vehicle. Many workplaces will provide a pre-operational checklist logbook in each vehicle. This logbook is a recordkeeping tool that records the date, operator, and the elements that were checked before each use.
---
What should I do before starting a vehicle?
Back to top
Read, understand, and follow manufacturer's operating manual.
Know how to operate the vehicle and use any related equipment or attachments safety. Be familiar with the location and function of all the controls.
Inspect your vehicle daily.
Develop a routine method of inspecting vehicle (e.g. start at the front on the driver's side and walk towards the back, and around past the passenger side, checking the items listed below).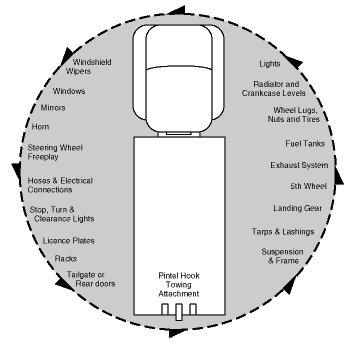 There are many tips in other Landscaping OSH Answers documents.
---
What should I check before operating a vehicle?
Back to top
Adjust seat and controls.
Make sure you have your driver's license on you as well as any training certificates that may be required.
Fasten seat belt if tractor/loader is equipped with roll-over protection structure (ROPS).
Below is a sample inspection checklist. Always adapt sample checklists to meet the needs of your organization, the equipment specifications, and any legislative requirements.
Vehicle or Equipment Inspected:

Date:

Odometer:

Operator:

OK

Not OK

Element Verified

Parking Brake - holds against slight acceleration

Foot Brake - holds, stops vehicle smoothly

Clutch and Gearshift - shifts smoothly without jumping or jerking

Steering - moves smoothly; no "play"

Lights - headlights, warning lights, and turn signals operational

Dash Control Panel - all lights and gauges operational

All Moving Parts - no strange noises

Horn – operational

Visibility - mirrors properly adjusted; windows clean and intact

Wipers/washer - functioning and intact

Tires - pressure, tread depth or damage

Wheels and fasteners - no defects in rim, loose or missing fasteners

Seat belts - in good condition and being used

Vehicle back-up alarm - operational, where required

Hydraulic systems - no evidence of leaks and systems operate smoothly

For tractors, power take off shields - in place

Fluid levels verified - oil, gas, brakes, washer fluid. Check for leaks

Load - secure and complying with regulations; hitch in good condition

Emergency equipment - installed and inspected as required by law or company policy

Additional Notes:

Record and report any defects to your supervisor immediately.
---
Fact sheet confirmed current: 2022-05-26
Fact sheet last revised: 2022-05-26