Client Lifting Fast Facts Card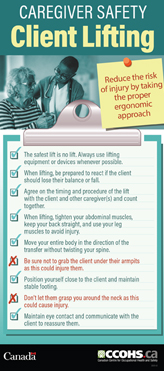 4" x 9" / 10.2 cm by 22.9 cm
Description
Caregivers and healthcare workers who must lift patients as part of their jobs face increased risk of injuries. The physical stresses and exertion involved in caring for clients has caused rising numbers of back injuries and other musculoskeletal problems. While the safest lift is no lift - using lifting equipment or devices whenever possible - there are some good practices to adopt if manual lifting is required.
Distribute these cards to reinforce the importance of taking the proper ergonomic approach to reduce the risk of injury for both the caregiver and the client.
These compact cards are printed double-sided, with English on one side and French on the other, on sturdy card stock with a UV coating for added durability. Note that a minimum order of 10 cards is required.
---