Pick Up Tips on How to Lift Safely Fast Facts Card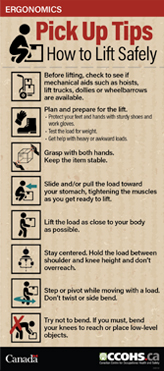 10.2 cm by 22.9 cm
4 in by 9 in
Description
Picking up an object may seem relatively straightforward, but in fact, lifting is the most common cause of low back pain at work in Canada. The number and the severity of injuries may be greatly reduced by preparing and planning for the lift while also practicing safe lifting and handling techniques.
Share these cards to remind workers about the importance of preparation and proper lifting methods. Their compact size is ideal for posting in workstations, warehouses, loading docks, supply rooms and wherever they may be lifting objects at the workplace.
These information cards are printed double-sided, with English on one side and French on the other, on sturdy card stock with a UV coating for added durability. Note that a minimum order of 10 cards is required.
Need a larger version? Check out our full-colour poster.
---