Controlling COVID-19 in the Workplace Infographic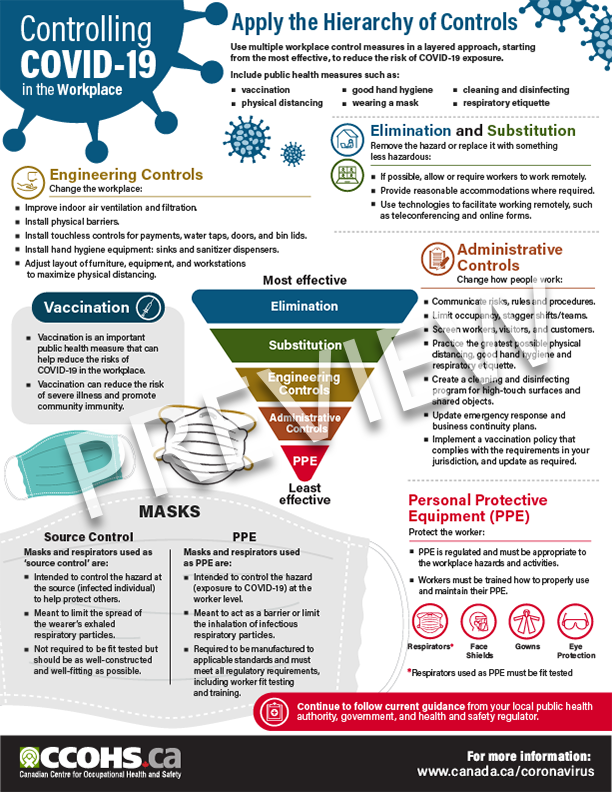 Format:

PNG
Language:

English & French
Size:

27.9 cm by 43.2 cm

11 in by 17 in
Description
Selecting an appropriate method to control a hazard in the workplace is not always easy. When it comes to the transmission of viruses such as COVID-19, workplaces should consider establishing control measures that have the greatest impact. The main ways to control a hazard, from the most to the least effective, include elimination (and substitution), engineering controls, administrative controls, and personal protective equipment (PPE). In all cases, wear masks, practice physical distancing, hand hygiene, and respiratory etiquette.
Share this infographic on how the hierarchy of controls can be applied to COVID-19 in the workplace, including examples of controls for each level. Visit the Infectious Disease Outbreaks/Pandemics website for additional information and resources.
About CCOHS Infographics
Infographics are designed to be read online, so we encourage you to share them to your online social networks and e-mail. When printing our infographics, please note that they are optimized for 11 by 17 inch paper. We also develop larger posters ideal for printing and display, based on the guidance offered in our infographics.
---