Chainsaws - Handling, Transportation & Storage
---
What are some safety tips for handling, transportation and storing?
Back to top
Handle chain saws safely to prevent injury to yourself or others.
Shut off the chain saw motor before setting it down or carrying it for more than a very short distance. It is extremely dangerous to carry a chain saw when the engine is running.
Let the chain saw cool before transporting.
Engage the chain brake when carrying the chain saw
Use a scabbard or bar guard to cover the chain when carrying or transporting a chain saw.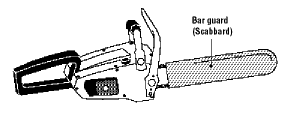 Carry the chain saw with the bar pointed behind you. Ensure the scabbard is on and the muffler is away from the body.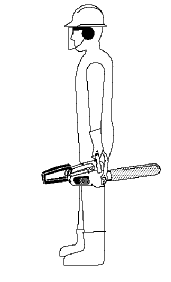 Use a carrying case to prevent damage to the saw during transit and storage. The case also provides convenient storage for the owners manual and tools.
Secure the chain saw and carrying case during transportation to prevent them from moving.
Drain all fuel into an approved safety container before storing the chain saw for long periods including starting the motor to empty fuel from the carburetor.
Store your chain saw in a cool, dry place.
Do not carry a chain saw on your shoulder unless the chain is properly guarded or removed.
Do not transport a chain saw in the passenger compartment of a vehicle.
Review the manufacturer's manual for additional safety instructions.
Refer to OSH Answers document Chain Saws - Safe Use of Chain Saws for more information.
---
Fact sheet last revised: 2017-05-02