Chainsaws - Personal Protective Equipment and Clothing
---
What are examples of recommended personal protective equipment?
Back to top
Use proper safety clothing and personal protective equipment (PPE), that are appropriate for the tasks being performed, to reduce the risk of injury. Clothing should be well-fitting to prevent any entanglement with the chain saw. The following personal protective equipment and clothing are recommended when operating a chain saw.
The standards that are referenced below are the most recent editions. You should consult legislation or the local occupational health and safety agency in your jurisdiction to confirm which version is used or is referenced in legislation that applies to your workplaces.
Safety glasses with side shields, safety goggles, and face shields approved by standards like CAN/CSA Standard Z94.3-15: Eye and Face Protectors.
A face shield attached to the hard hat without safety glasses does not provide the adequate eye protection.
Leather gloves with ballistic nylon reinforcement on the back.
They offer a good grip on the saw and absorbs some vibration that provides some protection for the hands.
Leather gloves can also prevent cuts when sharpening the saw.
Heavy, well-fitted, safety work boots approved by standards like CAN/CSA Standard Z195-14 (R2019): Protective Footwear.
In addition to the regular requirements for safety boots, chain saw operators should wear boots made from cut-resistant materials that offer protection from contact with running chain saws.
Boots made of ballistic nylon offer the best cut protection.
Rubber soles for wet weather and snow, and hobnail boots, grip soles or cork soles for rough terrain.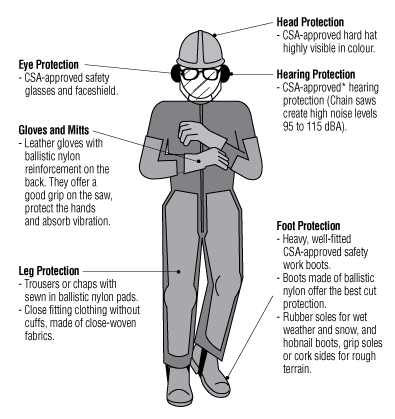 Hard hat, highly visible in colour, approved by standards like CSA Standard Z94.1-15: Industrial Protective Headwear - Performance, Selection, Care and Use.
Hearing protection devices, approved by standards like CSA Standard Z94.2-14: Hearing Protection Devices - Performance, Selection, Care and Use. (Chain saws create high noise levels of up to 95 to 115 dBA.)
Leg Protection Clothing
Trousers or chaps with sewn-in ballistic nylon pads. Trousers (pants) that protect to the belt line offer more protection than those that stop at the upper thigh.
Close fitting clothing without cuffs, made of close-woven fabrics.
Fall Protection
Know when to use fall protection equpiment, including body belts, harnesses and lanyards.
---
Fact sheet last revised: 2019-07-02