WHMIS for Managers and Supervisors
*Updated!*
Understand and meet your health and safety responsibilities under WHMIS, which was amended in December 2022.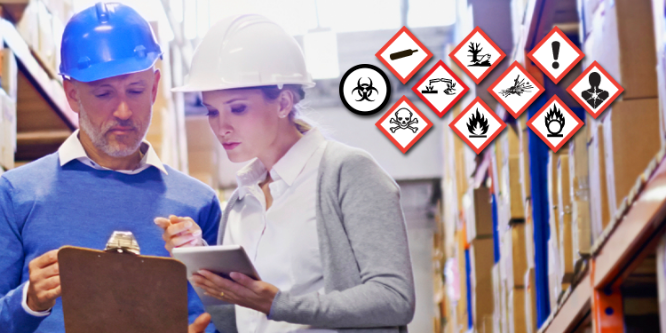 Format:

e-Course
Language:

English/French
Access:

Single Seat (90 days access from date of purchase)

Group Training (multi-seat) (1 year access from date of purchase)
Description
WHMIS stands for the Workplace Hazardous Materials Information System. WHMIS is a comprehensive Canadian hazard communication system that provides health and safety information on hazardous products in Canadian workplaces. This course will help you understand and meet your health and safety responsibilities as a manager or supervisor under WHMIS.
The course reflects the current (amended) WHMIS legislation, familiarizing you with your duties, pictograms and their meanings, product labels, and safety data sheets. Practical advice and guidance on basic health and safety measures are also included so you can take steps to protect your workers and prevent injuries and illnesses. As a manager or supervisor, you need to know your duties, ensure that your workers are trained, label all hazardous products properly, and make sure up-to-date safety data sheets are accessible.
In December 2022, the WHMIS legislation (Hazardous Products Regulations) was amended to align with the 7th revised edition and certain provisions of the 8th revised edition of the Globally Harmonized System of Classification and Labelling of Chemicals (GHS). Workplaces that use, store, or handle hazardous products will need to update their education and training programs to help workers learn and understand the changes to WHMIS. This course reflects the amended legislation and helps to satisfy the education requirements for hazardous products.
The key changes in the December 2022 amendments include:
Improved clarity and precision for certain provisions
New information elements required on safety data sheets and labels
Adoption of a new physical hazard class: Chemicals Under Pressure
A change in name of the physical hazard class "Flammable Aerosols" to "Aerosols"
A new hazard category for non-flammable aerosols (Aerosols – Category 3)
Subcategorization of Flammable Gases – Category 1 into 1A and 1B (with the inclusion of pyrophoric gases and chemically unstable gases in subcategory 1A).
The amended Hazardous Products Regulations (HPR), as of December 2022, is referred to as simply "WHMIS." Different versions of the Hazardous Products Regulations are referred to as "former" and "amended." The "former Hazardous Products Regulations" identifies the WHMIS 2015 regulations that were in effect prior to these amendments.
Suppliers will have until December 14, 2025, to bring their safety data sheets and labels into compliance. During this period, regulated parties can choose to comply with either the former HPR or the amended HPR. However, the hazard classification, safety data sheet and label of a hazardous product must be fully compliant with the version of the regulation chosen. A product classified in accordance with the amended WHMIS will not be compliant if the safety data sheet is compliant with the former WHMIS 2015.
Topics include:
Overview of WHMIS
Legal requirements, including roles and responsibilities of employers, managers and supervisors
Products covered under WHMIS
Components of WHMIS

Hazard classification
Hazard communications, including WHMIS labels and safety data sheets
WHMIS education and training
Upon completion of this course, you will be able to:
Identify your duties and legal responsibilities as an employer
Recognize the components of WHMIS
Locate and interpret hazard information on product labels
Locate additional information in a safety data sheet
Identify the requirements of a WHMIS training program
Average time to complete this course is approximately 2.5 hours.
Target Audience
Managers and supervisors in workplaces where hazardous products are used
Human resources and safety professionals with responsibilities for training and compliance
Prerequisite
Prior technical knowledge of health and safety is not a requirement. However, familiarity with workplace processes and practices is helpful.
Certificate of Completion
Upon completion of the course and passing a final, multiple-choice exam, learners will be able to print a certificate of completion.
System Requirements
This course is delivered online. View the minimum system requirements to take this course.
Review Process
CCOHS courses are unique in that they are developed by subject specialists in the field, and reviewed by representatives from labour, employers and government to ensure the content and approach are unbiased and credible.
VuBiz Partnership
We partnered with Vubiz - an international leader in e-learning development - to create this e-course. Vubiz offers other related e-learning courses that may also be of interest to you. Read about them in the Vubiz Catalogue of e-learning courses.
---
VIEW ALL COURSES
The CCOHS Difference
CCOHS courses are unique in that they are developed by subject specialists in the field, and reviewed by representatives from labour, employers and government to ensure the content and approach are unbiased and credible.
Certificate of Completion
Earn a certificate upon successful course completion (except free awareness courses).
Created in Partnership
We partner with Vubiz, an international leader in elearning development, to deliver our courses.