Implementing a Chemical Safety Program
Use the information, samples, and checklists in this manual to develop or improve your chemical safety program.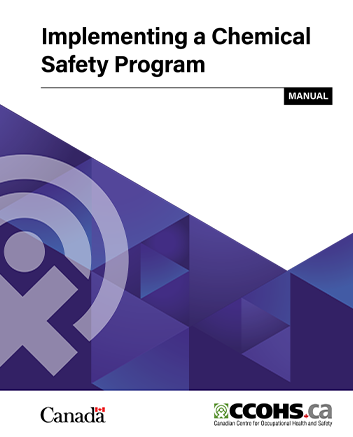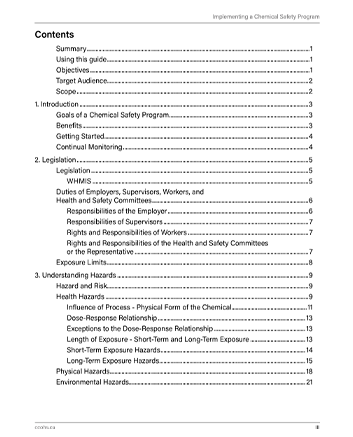 Single book:

*
Format:

PDF
Language:

English | French
Description
Every workplace has chemicals - ranging from cleaning products to full chemical production.
Having a chemical safety program in your workplace will reduce health and safety risks, lower environmental impact, and reduce operation costs. If chemicals are not used, stored and handled properly, they can cause injury, illness, disease, fire, explosions, or property damage.
A chemical safety program does not have to be complicated or costly. The overall goal is to establish a program that considers the entire lifecycle of the chemical or process - beginning with purchasing and including identification, labeling, inventory, use, storage, record-keeping requirements, and disposal.
This manual will help you by providing step-by-step guidance on understanding, controlling and safely working with chemicals.
Objectives
This 116-page manual provides best practice information about the safe use and control of chemicals in a workplace.
It will help you to:
Create a chemical safety program
Identify hazards and risks to workers, equipment, material, and the environment
Evaluate and control hazards
Be prepared for and respond to emergencies
Monitor and improve your program.
It will also help organizations:
Assign responsibilities and accountabilities for chemical safety
Decrease workplace injuries, illnesses and fatalities
Reduce the impact of accidents and incidents
Create a culture of prevention and awareness.
Scope
This manual provides the information, samples, and checklists needed to start or improve your chemical safety program. It will also help you understand how to work safety with chemicals, their health hazards, and storage, handling and other aspects of chemical safety. The actual chemicals that are present and their hazards, as well as the size and complexity of your specific workplace, will determine the level of program that you need.
Use the information in this manual and customize it so the program works best for your workplace.
NOTE: The information in this publication is based on best practice principles and techniques. The purpose of this manual is to provide guidance, rather than prescribe specific requirements, and is not intended as a legal interpretation of any federal, provincial or territorial legislation.
Topics
This manual is written for both small and large businesses. Use and adapt the sections that apply best to your workplace and the hazards of the chemicals present.
Topics include:
The elements of a chemical safety program - how to get started, legislation, inventory, and purchasing
Hazard identification systems such as WHMIS (Workplace Hazardous Materials Information System) and GHS (Globally Harmonized System), chemical hazards, and examining the information presented on labels and safety data sheets.
Safely storing and working with chemicals, and common control measures (hierarchy of control)
Occupational exposure limits, and how testing would be done to determine the actual amount of chemicals that works may be exposed to
Emergency preparedness, first aid, hazardous wastes, and training.
Target Audience
This manual is recommended for anyone who is committed to providing a workplace that is healthy and safe from the hazards associated with chemicals.
It will assist employers, owners, managers, supervisors, operators, health and safety committees, chemical management teams, workers - and the organization as a whole - by providing guidance about the development, maintenance and continual improvement of a chemical safety program.
---
VIEW ALL PUBLICATIONS
The CCOHS Difference
CCOHS publications are unique in that they are developed by subject specialists in the field, and reviewed by representatives from labour, employers and government to ensure the content and approach are unbiased and credible.
Copyright
Although our publications are protected by copyright, permission for non-commercial reproduction may be provided.
Please use our Copyright Authorization Form to request permission, or contact us for more information.