Compressed Gases
Learn best practices on the use, handling, storage, and transport of compressed gases.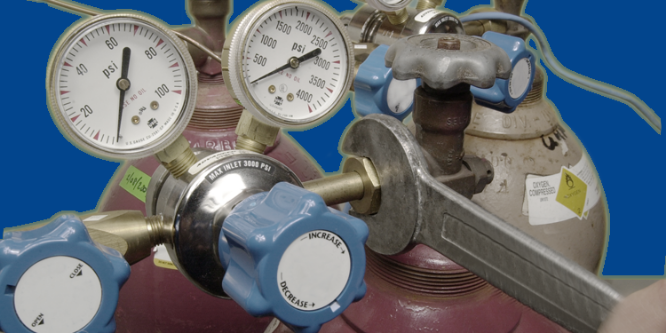 Single Seat (90 days access from date of purchase)
Multi-seat (1 year access from date of purchase)
Description
Gases are compressed to make them easier to handle and transport, and are used in industry and laboratories for a variety of different operations. These gases have their own unique physical, chemical and mechanical hazards which must be understood in order to work safely.
Learn about the hazards associated with the storage and handling of compressed gases, and how you can work with them safely using industry-proven best practices. References to legislation, standards and guidance materials are provided where appropriate. To complement this course, it is recommended that hands-on training is performed at the facility level regarding the specific use, handling and storage policies and practices used at your organization.
Topics include:
Definitions, uses, and legislation
Hazards associated with compressed gas use, handling, storage, and transport
General safe handling and transportation procedures
General storage requirements
Specific uses and safety considerations
Upon completion of the course you will be able to:
Define a compressed gas
Outline their uses and benefits
Describe legislative requirements associated with the use of compressed gases
Understand the hazards associated with the use, storage, handling, and transportation of compressed gas cylinders
Understand the proper use and selection of regulators and needle valves
Identify faulty regulators, lines, or cylinders (ie. Leaks)
Identify specific safe handling considerations for:

Welding, brazing, and other allied uses
Laboratory use
Use of cylinders for breathing assistance
Average time to complete this course is approximately one hour.
Target Audience
Anyone who is required to use, handle, or transport compressed gas cylinders.
Prerequisite
None
Delivery Method
This course is delivered as an on-line e-learning course. All you need is a computer, access to the Internet - and you are ready to go! This e-learning course is designed to help you learn at your own pace and in your own environment at your own convenience.
Registration
Registration for this course is provided online, or by contacting Client Services or calling 1-800-668-4284.
Review Process
CCOHS courses are unique in that they are developed by subject specialists in the field, and reviewed by representatives from labour, employers and government to ensure the content and approach are unbiased and credible.
VuBiz Partnership
We partnered with Vubiz - an international leader in e-learning development - to help develop this e-course.
Vubiz offers other related e-learning courses that may also be of interest to you. Read about them in the Vubiz Catalogue of e-learning courses.
---