Powered Hand Tools - Pneumatic Nailing and Stapling Tools
---
What general safety principles should you follow when using pneumatic nailing and stapling tools?
Back to top
Permit only experienced and trained people to operate pneumatic nailing and stapling tools.
Wear safety glasses or goggles, or a face shield (with safety glasses or goggles) and, where necessary, use hearing protection.
Inspect each tool before connecting it to the air supply:

Check tool safety mechanisms if applicable.
Tighten all screws and cylinder caps securely.

Check for correct air supply and pressure before connecting a tool.
Check that the tool is correctly and securely connected to the air supply hose, in good working order, and has a fully operating safety mechanism before using.
Always handle a tool as if it is loaded with fasteners (nails, staples, etc.).
Equip tools with a work-contacting element that limits the contact area to one that is as small as practical.
Make sure that the mechanical linkage between work-contacting element and trigger is enclosed.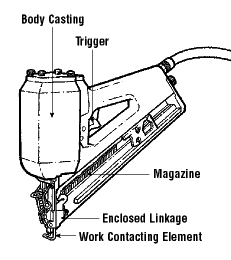 Disconnect tool from air supply when not in use and during cleaning or adjustment. Before clearing a blockage, be sure to depress the trigger to exhaust all air from the tool.
Use only fasteners recommended by the manufacturer.
Permit only properly trained people to carry out tool maintenance.
---
What should you avoid when using pneumatic nailing and stapling tools?
Back to top
Do not point the tool toward yourself or anyone else whether it contains fasteners or not.
Do not operate at a pressure above the manufacturers' rating.
Do not depress the trigger unless the nose piece of tool is directed onto a safe work surface.
Do not carry a tool with the trigger depressed.
Do not load a tool with fasteners while the trigger is depressed.
Do not overreach. Keep proper footing and balance.
Do not use compressed air to blow debris or to clean dirt from clothes.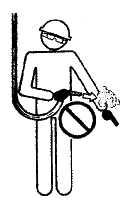 Refer to Powered Hand Tools - Basic Safety for Pneumatic Tools for general safety tips for using tools powered by compressed air.
---
Fact sheet confirmed current: 2019-08-15
Fact sheet last revised: 2013-12-20