Features
Stay on top of your WHMIS compliance
Create, save and print workplace labels directly from the data sheets in your collection.
Access English and French data sheets on desktop or mobile devices.
Discontinued products in your collection are flagged.
CANManage includes the safety data sheet program elements that inspectors look for to evaluate compliance in an audit.
Manage your collection
Quickly add and remove safety data sheets. An unlimited number of records can be included.
Organize your safety data sheets by department or location.
View product summaries of key information and print data sheets in one click.
Add custom fields specific to your organization, such as inventory numbers.
Easily export your collection to Excel, create a collection index, and download an eBinder export file.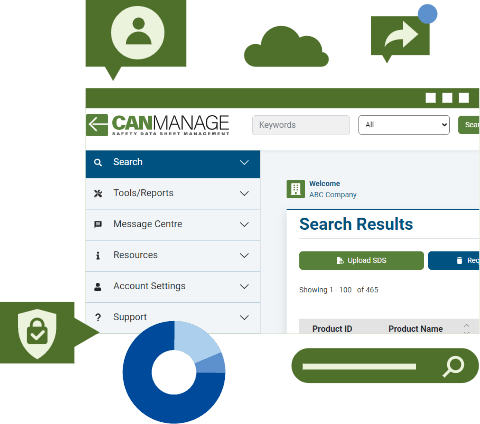 Manage your account
Multi-level user permissions, assigned by your own administrator.
Add, edit, and delete as many user accounts as you need.
Review collection update requests including their status and any support communications with CCOHS via the message centre.
A truly Canadian solution
CCOHS has been serving workplaces with trusted health and safety information and services for more than 40 years.
Get support from our bilingual team of account managers, product experts, and health and safety specialists.
Seamlessly toggle between English and French.