Health and Safety Committees Reference Guide
Practical guidance to form an effective health and safety committee.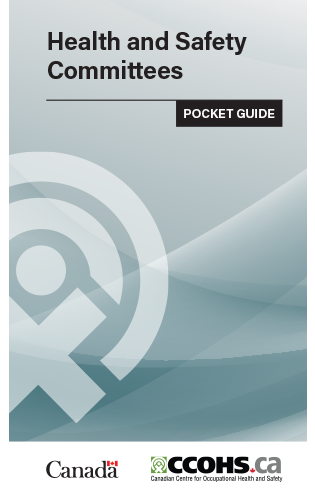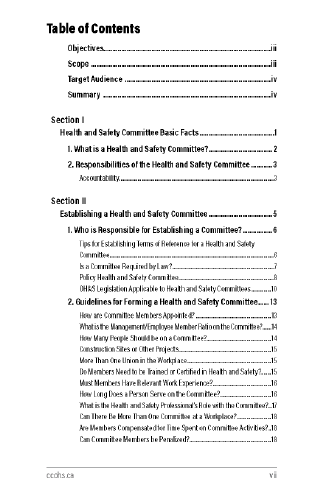 Format:

PDF
Language:

English | French
Description
Designed and written as a practical workplace training and reference tool. This 194-page pocket guide is filled with clear-language text including safety tips, charts, diagrams, checklists and illustrations.
Objectives
This guide will help health and safety committee members to:
Understand their roles and responsibilities under occupational health and safety legislation;
Form an effective committee;
Conduct effective and efficient committee meetings;
Carry out committee activities as set out in the occupational health and safety legislation;
Recognize workplace hazards and recommend control measures;
Respond to workplace concerns;
Assist the employer in resolving health and safety issues; and
Contact health and safety resources to find information.
Scope
This guide provides practical guidance for the formation and effective functioning of a health and safety committee. The contents are based on the health and safety legislation of different jurisdictions and the principles of an internal responsibility system. Detailed information on specific workplace hazards can be obtained from the Inquiries Service of the Canadian Centre for Occupational Health and Safety (CCOHS).
Target Audience
This guide is a handy reference for committee members and health and safety representatives. Employees, supervisors, managers, and anyone else committed to maintaining health and safety in the workplace will find this guide useful. For training sessions, this guide will serve as a practical handout. This guide will also serve as a practical reference for the formation and effective functioning of voluntary health and safety committees in workplaces where the law does not require the establishment of a committee.
---
Each publication produced by CCOHS undergoes several stages of review. As part of this review, representatives from government, employers, and labour are requested to comment on draft copies of CCOHS documents for technical accuracy and readability.
Although every effort is made to ensure accuracy and completeness of the information, it is understood that CCOHS makes no warranty as to the accuracy or completeness of such information and assumes no liability for any damages or loss suffered as a result of any inaccuracy or incompleteness therein.
---
VIEW ALL PUBLICATIONS
The CCOHS Difference
CCOHS publications are unique in that they are developed by subject specialists in the field, and reviewed by representatives from labour, employers and government to ensure the content and approach are unbiased and credible.
Copyright
Although our publications are protected by copyright, permission for non-commercial reproduction may be provided.
Please use our Copyright Authorization Form to request permission, or contact us for more information.