WHMIS 2015 Fact Sheets
Free
Raising awareness about WHMIS 2015.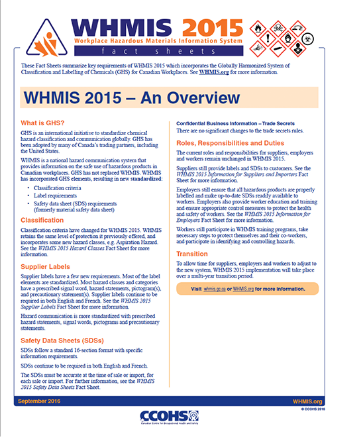 Format:

PDF
Language:

English / French
Size:

8.5 x 11/Set of 10
Description
CCOHS has worked in partnership with the Workplace Hazardous Materials Bureau of Health Canada to develop this series of WHMIS 2015 Fact Sheets. These information sheets are a part of CCOHS' free WHMIS 2015 e-courses.
Canada has aligned the Workplace Hazardous Materials Information System (WHMIS) with the Globally Harmonized System of Classification and Labelling of Chemicals (GHS). GHS has not replaced WHMIS. Rather, the original WHMIS, which remained virtually unchanged since 1988, has incorporated GHS elements, resulting in new standardized:
classification criteria
label requirements
safety data sheet (SDS) requirements (formerly material safety data sheet)
The modified WHMIS is referred to as WHMIS 2015.
These fact sheets promote awareness about WHMIS 2015, and include an Overview; Information for Suppliers and Importers; Information for Employers; Pictograms and Their Hazards; Hazard Classes; Supplier Labels; Safety Data Sheets; Variances; Exemptions for Suppliers and Employers; and CBI - Confidential Business Information.
All WHMIS After GHS Fact Sheets are available in both English and French.
Objective
These WHMIS 2015 Fact Sheets were developed to raise awareness about the changes that have occurred with the modification of WHMIS to implement the GHS for workplace chemicals.
Target Audience
Suppliers
Managers
Supervisors
Workers
WHMIS educators and trainers
Health and safety committee members
Download a Copy
Preview a larger version of the individual fact sheets by clicking on the thumbnail images below. Click on the Download button at the top of the page to obtain all the Fact Sheets in PDF format.
Although every effort is made to ensure accuracy and completeness of the information, it is understood that CCOHS makes no warranty as to the accuracy or completeness of such information and assumes no liability for any damages or loss suffered as a result of any inaccuracy or incompleteness therein.
---
VIEW ALL PUBLICATIONS
The CCOHS Difference
CCOHS publications are unique in that they are developed by subject specialists in the field, and reviewed by representatives from labour, employers and government to ensure the content and approach are unbiased and credible.
Copyright
Although our publications are protected by copyright, permission for non-commercial reproduction may be provided.
Please use our Copyright Authorization Form to request permission, or contact us for more information.