Bullying is Not Part of the Job Sticker (pink)
Make sure this message sticks: bullying does not belong in the workplace.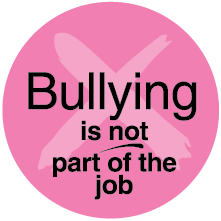 Description
Threats, constant or unjust criticism, intimidation, belittling, heckling, gossip, physical abuse - bullying behaviours are increasingly being recognized as a serious workplace problem that can cause undue stress, anxiety, and low morale among workers.
Hand out these stickers to reinforce the message that bullying is not part of the job. Bullying behaviours should be reported to a designated authority in your workplace, such as a supervisor, union representative, or someone who can help.
These stickers are ideal for Pink Shirt Day on February 28th, and for use all year round as a simple but clear reminder that bullying is not to be tolerated.
Also Available
We also have another sticker design plus Bullying is Not Part of the Job, Respect: Everyone Deserves It, and See Signs of Violence at Your Workplace? posters available as free PDF downloads or for purchase.
Note that a minimum order of 15 stickers is required.
---