Handwashing Sticker
Wash your hands. Make your message stick.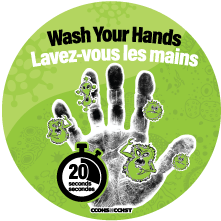 Description
Don't forget to wash your hands! Reinforce the message that hand washing is the single most effective way to prevent the spread of infections such as colds, the flu, and C. Difficile, with this handy reminder sticker from CCOHS.
These stickers are ideal for affixing to a variety of surfaces, including hand dryers, the back of washroom doors, and on mirrors, in commercial kitchens, schools, offices, healthcare facilities, and other places where workers, students, and the public wash their hands. Made out of polypropylene, these stickers are easy to peel and reposition, and leave no residue when removed.
Proper handwashing technique involves using an adequate amount of soap, scrubbing the hands together for at least 20 seconds, rinsing thoroughly under running water, and drying with a single use towel or air dryer. Watch and share our video on how to properly wash your hands, and download our free handwashing poster, to help make handwashing a healthy habit at your workplace.
*Note that a minimum order of 6 stickers is required.
---