COVID-19 Workplace Risk Assessment and Safety Plan
NEW! FREE!
Keep workers healthy and protected with a COVID-19 workplace risk assessment and safety plan.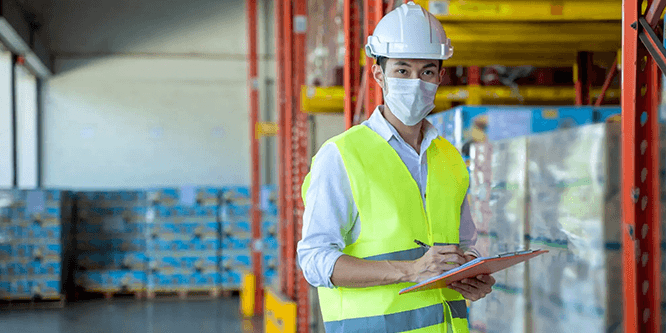 Single Seat (90 days access from date of purchase)
Multi-seat (1 year access from date of purchase)
Description
The health and safety of all workers should be a priority for employers, especially during the COVID-19 pandemic, whether they are working onsite, at home, or plan on returning to work. Workplaces in Canada must take every precaution reasonable to protect their employees from the transmission of COVID-19, and can do so with workplace risk assessment and safety plans, which outline the steps to reduce exposure; procedures to monitor exposure and health; and what to do if anyone reports or shows signs or symptoms of infection.
This free e-course is comprised of two modules that discuss the eight steps for planning and conducting a COVID-19 workplace risk assessment and the six steps in planning and evaluating a COVID-19 workplace safety plan.
Participants will learn about both work and personal factors to consider when assessing and preventing the risk of exposure, reviewing a safety plan to ensure it is effective, and keeping up to date with current COVID-19 guidelines.
Topics include:
Planning workplace risk assessments for COVID-19 transmission
Identifying key factors for assessments
Identifying risk factors
Planning and evaluating a COVID-19 workplace safety plan
Upon completion of this course you will be able to:
Identify the eight steps in planning and conducting a workplace risk assessment for COVID-19
Identify the six steps in planning and evaluating a COVID-19 safety plan
Average time to complete this course is approximately 20 minutes.
Target Audience
Managers and supervisors and those with planning responsibilities
Health and safety committee members or representatives
Anyone wanting to learn about workplace COVID-19 prevention
Prerequisite
None
Certificate of Completion
This course is offered free of charge to promote awareness of the topic only, and a certificate of completion is not provided.
System Requirements
This course is delivered online. View the minimum system requirements to take this course.
Review Process
CCOHS courses are unique in that they are developed by subject specialists in the field, and reviewed by representatives from labour, employers and government to ensure the content and approach are unbiased and credible.
VuBiz Partnership
We partnered with Vubiz - an international leader in e-learning development - to create this e-course. Vubiz offers other related e-learning courses that may also be of interest to you. Read about them in the Vubiz Catalogue of e-learning courses.
---