Return to Work During COVID-19
NEW! FREE!
Working during a pandemic requires appropriate planning. Learn what you can do to safely return to work during COVID-19.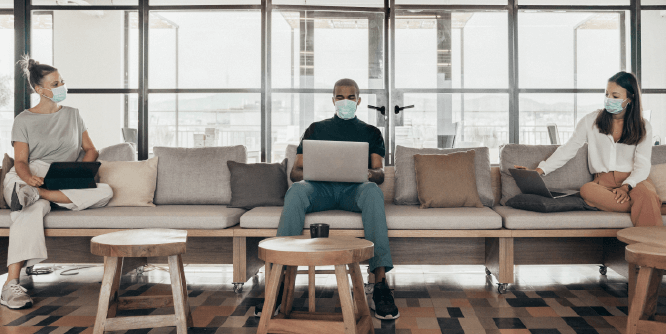 Single Seat (90 days access from date of purchase)
Multi-seat (1 year access from date of purchase)
Description
With businesses reopening, many workers are or will be returning to the workplace for the first time since the COVID-19 pandemic began. Some workplaces have been closed or operating with minimum staff for an extended period of time. Employers should consider how to prepare their workplaces to make sure they are safe for occupancy.
This free 30-minute course provides an overview of COVID-19 control measures, how to prepare your workplace for a safe return, communication strategies, and long-term safety measures. Return to Work During COVID-19: Preparing Workers provides employers with considerations and steps to take when preparing workers for a safe return to the workplace.
Topics include:
Maintaining COVID-19 workplace control measures
Preparing the building for the return of workers
Communicating regularly with workers
Keeping your workplace safe long-term
Upon completion of this course, you will be able to:
Recognize that workplace control measures for COVID-19 must be maintained (or implemented) until restrictions are lifted by the health and safety regulator and local public health authority.
Identify actions needed to prepare the building for occupancy
Recognize the importance of communication with workers
Identify if controls should be kept, revised or discontinued
Average time to complete this course is approximately 30 minutes.
Target Audience
This e-course is for employers, managers, and supervisors who are preparing their workplace for the return of workers. It may also be useful to operations staff and health and safety committee members or representatives.
Prerequisite
None.
Certificate of Completion
This course is offered free of charge to promote awareness of the topic only, and a certificate of completion is not provided.
System Requirements
This course is delivered online. View the minimum system requirements to take this course.
Review Process
CCOHS courses are unique in that they are developed by subject specialists in the field, and reviewed by representatives from labour, employers and government to ensure the content and approach are unbiased and credible.
VuBiz Partnership
We partnered with Vubiz - an international leader in e-learning development - to create this e-course. Vubiz offers other related e-learning courses that may also be of interest to you. Read about them in the Vubiz Catalogue of e-learning courses.
---