Day of Mourning Commemorative Pin (Dragonfly)
Reflect and renew your commitment to worker safety on this National Day.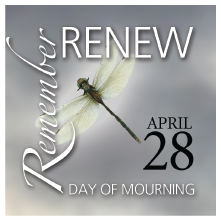 5.1 cm by 5.1 cm
2 in by 2 in
Description
Reflect and renew your commitment to worker health and safety by wearing this commemorative pin. The National Day of Mourning, held annually on April 28, is a time to remember those lives lost or injured on the job, while also serving as a call to protect the living.
We have incorporated the dragonfly as a symbol of transformation, ever-constant change and renewal. This pin serves as a simple but strong reminder of the importance of health and safety in the workplace.
Approximate size is 5.1 cm x 5.1 cm (2" x 2").
Pricing per pin is $1.25. Note that a minimum order of 10 pins is required.
We also have Day of Mourning stickers, plus a matching poster available for purchase or as a free PDF download.
---