Day of Mourning Sticker (Remember and Commit)
Reflect and renew your commitment to worker safety on this National Day.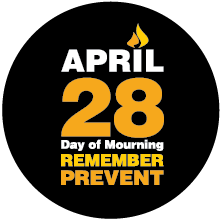 Description
Hand out these stickers to demonstrate your commitment to worker health and safety.
The National Day of Mourning, held annually on April 28, is a time to remember those who died, were injured or made ill from their work. It also marks a time where we can commit to protecting workers and preventing further workplace tragedies.
These stickers serve as a simple but strong reminder of the need to improve health and safety in the workplace.
Note that a minimum order of 15 stickers is required.
---