Day of Mourning Sticker
Reflect and renew your commitment to worker safety on this National Day.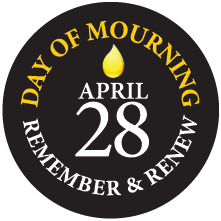 Description
Hand out these stickers to demonstrate your commitment to worker health and safety. The National Day of Mourning, held annually on April 28, is a time to remember those lives lost and injured on the job, while also serving as a call to protect the living.
These stickers serve as a simple but strong reminder to reflect and renew our commitment to healthy and safe workplaces.
Note that a minimum order of 15 stickers is required.
---