Day of Mourning (Dragonfly)
Sale
Reflect and renew your commitment to worker safety on this National Day.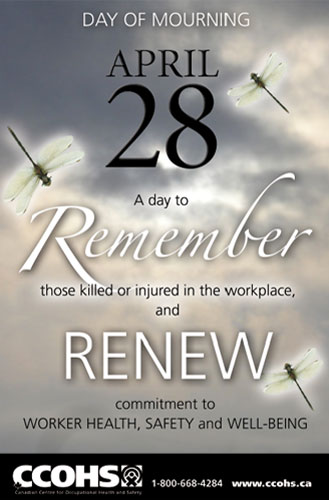 40.6 cm by 63.5 cm
16 in by 25 in
Description
Reflect and renew your commitment to worker health and safety by displaying copies of this poster throughout your workplace. The National Day of Mourning, held annually on April 28, is a time to remember those lives lost or injured on the job, while also serving as a call to protect the living.
We have incorporated the dragonfly as a symbol of transformation, ever-constant change and renewal. This poster serves as a simple but strong reminder of the importance of health and safety in the workplace.
This poster is printed double-sided, with English on one side and French on the other.
This poster is offered as a free download for individual copy use only. Reproduction is not permitted. Prints are available for purchase if you wish to distribute multiple copies.
Matching Day of Mourning pins and stickers are also available to help commemorate this National Day.
---