Respect: Everyone Deserves It
Respect: One word that goes a long way towards a safe and healthy workplace.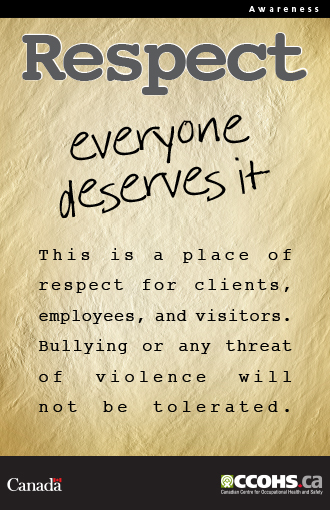 40.6 cm by 63.5 cm
16 in by 25 in
Description
Everyone deserves to work in an environment that is respectful and free of bullying, threats, and abuse.
Bullying behaviours and threats of violence affect the overall health of an organization. Display this poster where your employees are likely to interact with visitors, clients, and the public, as a reminder that respect is a two-way street. Everyone deserves to be treated with courtesy.
This poster is printed double-sided, with English on one side and French on the other.
This poster is offered as a free download for individual copy use only. Reproduction is not permitted. Prints are available for purchase if you wish to distribute multiple copies.
---